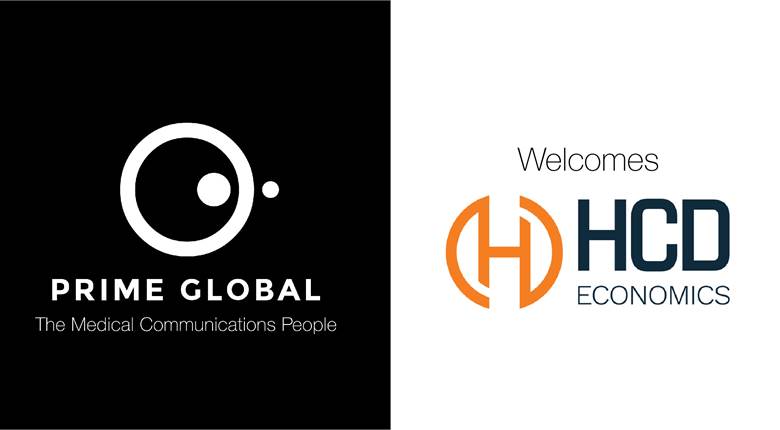 Prime Global acquires HCD Economics, creating an innovative evidence-generating, HEOR, value & communications group
Prime Global, a recognised global leader in medical communications and market access, has strengthened its Evidence, Access, and Patient Practice with the acquisition of HCD Economics, an academically aligned organisation focusing on health economics and outcomes research (HEOR) and real-world evidence (RWE). HCD will work closely with Prime Global's highly experienced medical communications agencies and specialist consultancies, including market access consultancy, Prime Access, and patient engagement experts, Prime Patient, to deliver integrated evidence-led services.
CEO of Prime Global, Graeme Peterson, commented, "HCD Economics and Prime Global are both focused on improving patients' lives. Combining HCD's evidence generation and analytic expertise with our specialist medical, patient, and payer communications skills will strengthen our support to clients, helping ensure patients have timely access to innovative treatments. I am excited to see the synergies we will create as our new partnership unfolds."
Jamie O'Hara, Founder and CEO of HCD Economics, added, "I'm delighted to partner with Prime Global, who shares our desire for improving patient lives. I founded HCD Economics to combine my expertise in evidence generation and real-world insights with my passion for advocacy. I look forward to working with Prime Global's patient-led scientific and communications teams to take us to the next level!"
Award-winning Prime Global is regularly featured on business growth lists, such as the Sunday Times Fast Track and Alantra Fast Pharma, and has launched several additional consultancies in recent years as well as acquiring Cambridge Medical Communication, now known as Cambridge, in May 2020. Since partnering with Levine Leichtman Capital Partners in April 2021, Prime Global continues to go from strength to strength, supporting pharma and biotech clients with science, strategy, and creativity at every step of the healthcare journey.
Prime Global were advised by BDO LLP and Addleshaw Goddard LLP. HCD Economics were supported by Squire Patton Boggs for legal and Hurst Accountants for corporate finance advice.
Media Contact
Susie Marriott, Marketing & Comms Manager, Prime Global
Susie.marriott@primeglobalpeople.com
+44 1565 752441
About Prime Global
Prime Global is a recognised leader in medical communications and market access that provides the world's leading biotech, pharma and healthcare businesses with full-service professional communications including healthcare strategy and consultancy, scientific and medical communications, consumer health, patient services, and market access.
Founded in 1997 by the CEO and Managing Director, Graeme Peterson PhD, it comprises seven agencies (Cambridge, Core, Onyx, Paragon, Prime, Scion, Spark), five consultancies (IRIS, Prime Access, Only Oncology, Prime Omics, and Prime Patient), as well as group-level teams for Creative, Strategy, Digital, and more. Prime Global is rapidly growing and employs over 300 people, with offices in the UK and the US.
Our highly qualified scientific teams deliver expertise across a wide range of therapy areas such as oncology, cardiovascular, diabetes and metabolic disorders, central nervous system and neuropsychiatry, respiratory, infectious diseases, vaccines, HIV and virology, devices and diagnostics, sexual health and urology, nephrology, haematology, dermatology, gastrointestinal, rare and genetic disorders, and immuno-inflammation and allergy.
We believe passionately in the value of innovative and creative science communication to further our understanding of the world, and to benefit patients everywhere. Our philosophy is 'people first'. People are at the heart of everything we do, from the colleagues we work with to the clients we support every day, and ultimately the patients helped by their products and services.
About HCD Economics
HCD Economics is focused on health economics and outcomes research and real-world evidence, conducting disease research and burden of illness studies to address Health Technology Assessment (HTA) and health economic evidence needs for market access, pricing, and reimbursement across the UK, key European markets, and the US. HCD Economics collaborates with academic institutions (including the University of Chester), charities, patient advocates, clinicians, local and national health services, and the pharmaceutical industry to inform and support healthcare decision-making.
The highly skilled, multi-disciplinary team of around 40 people has expertise in health economics, modelling, statistics, health services research, and systematic reviews. We use peer reviewed methodology and rigour to collate real world evidence that can be interrogated to provide multi-faceted opportunities for continued, informed decision making. HCD provides a unique insight and perspective, focusing our analyses on what matters to patients as well as decision-makers, all undertaken with academic rigour, independence, and credibility.