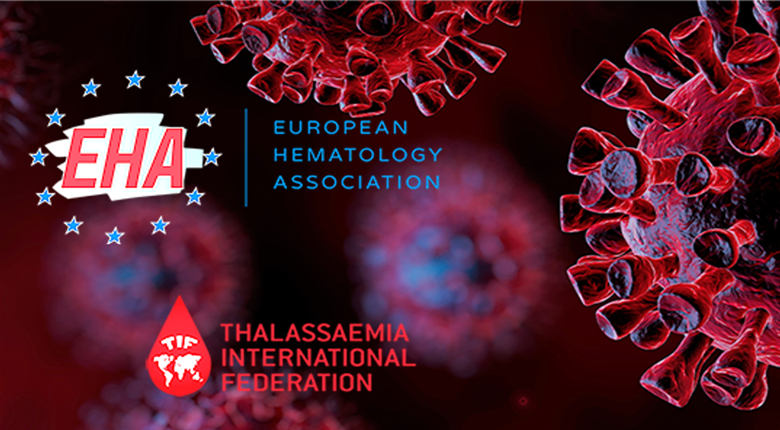 The European Haematology Association (EHA) hosted a webinar in April 2020 with the Thalassaemia International Federation (TIF), to provide SCD and Thalassaemia patients with an update on the risks and impacts of COVID-19 patients in Europe. HCD Economics attended this event to raise internal level on knowledge and developments as SCD and Thalassaemia are diseases currently being researched by the HCD teams.
The webinar was titled 'SCD/Thalassaemia and COVID-19: Possible Risks and a Proposal for a Patient Pathway During the Pandemic'. The speaker panel included Dr Raffaella Colombatti, from the Department of Women's and Children's Health SDB, University of Padova in Italy, Professor Maria Domenica Cappelini from the Foundation IRCCS Ca' Granda Ospedale Maggiore Policlinico, Univesity of Milan in Italy and Dr Androulla Eleftheriou, Executive Director, Thalassaemia International Federation, Cyprus.
The susceptibility of thalassaemia patients was reviewed. One of the concerns presented was the vulnerability to bacterial infections of thalassaemia patients in the older age group that have been splenectomised. As bacterial infections can trigger serious and life-threatening sepsis, although it was confirmed splenectomy is not known to increase the risk of viral infection or severe viral illness.
Italian experience was shared, drawn from the SITE network survey (from analysis dated 4th April 2020), the survey followed a small cohort of thalassaemia patients in the Northern part of Italy where the pandemic has been most widespread, these patients experienced relatively mild to moderate COVID-19 disease. The number of infected patients was lower than expected, which is considered to be because these patients undertook earlier and more vigilant self-isolation compared to the general population. Only one non-transfusion-dependent-thalassaemia patient was reported. In this sample 72% of the patients were splenectomised, splenectomy did not affect the clinical course. The average age was 44.
The Community Advisory Board (CAB) of the Thalassaemia International Foundation (TIF) was the source of data presented from 62 countries documenting the shortage of blood supplies and the ways in which CAB/TIF members combated shortages including a return to family and friend's donation practices, whole blood and older blood transfusions. The patient's perspective from Europe and North America in terms of response to blood safety and adequacy was also outlined in detail.
Interim data from an ongoing collection of data from TIF members was presented (data correct as at 16th April 2020) on 51 thalassaemia patients infected with COVID-19. Data included clinical symptoms, status at admission and outcome including mortality in 3 cases at time of reporting. A hopeful observation was that 46 out of the 51 patients were labelled as mild to moderate.
Sources of data on SCD patients, diagnosed with COVID-19, includes published case studies (Nur et al AJH 2020, De Luna G et al AJH 2020, Beerkens et al AJH 2020) and unpublished information drawn from expert discussions and inter-continental experience sharing. Single centre USA and European experience in reorganizing paediatric and adult SCD services was shared which includes;
Enhanced use of telemedicine
Reduced access for on-site visits with safe transportation provided
Delay of non-urgent transfusions if necessary
Dedicated pathways of access in units with clinical screening before entrance, distancing in waiting rooms
Coordination with local emergency rooms and COVID teams/services to establish adequate pathways
Focus on continuation of drug supply (home delivery) or alternate access for drug procurement
This short report is the second in the HCD 'Rare Disease Community – COVID-19 update series', sharing the personal recollection of HCD Real World Evidence Manager, Hayley Hubberstey. As an attendee at a series of COVID-19 response webinars hosted during April 2020 by a range of groups, in support of the patient communities, HCD are currently undertaking or planning RWE research.
For more information on all of the April webinars attended and for information on information resources and links publicised during the webinars, please contact Hayley Hubberstey at HCD Economics
hayley.hubberstey@hcdeconomics.com